Jackie Juhasz

As a teenager, I got a rush from the hunt for the next amazing vintage piece of jewelry or accessory at an auction or garage sale. I've always had an eclectic style and became quite the collector of costume jewelry and beads. With each monochromatic color schemed outfit, I had several pieces of jewelry to match. I became engulfed in art and art history classes early and my mind was set on art school for college.
I started at a small local private college, but they only had traditional art mediums. When I found the jewelry program at Western Michigan University, I toured the studio and knew I needed to transfer schools and change majors.
While studying at Western, I began working at a jewelry store where I contributed and perfected my craft. College taught me the conceptual and fundamental aspects of jewelry, but I gained the most from the real-world experience of working at the jewelry store. As a bench jeweler, I'm aware of the dos and don'ts of creating because I've seen (and likely repaired) jewelry that was designed for aesthetics, not durability.
While I still enjoy the hunt, my focus has shifted to finding outrageous stones I can create into beautiful pieces of jewelry. I combine the eclectic style of my youth with the skills and knowledge I've accumulated over the last 15 years to create jewelry that you won't find in a traditional store. I create jewelry that will draw attention and jewelry that will last.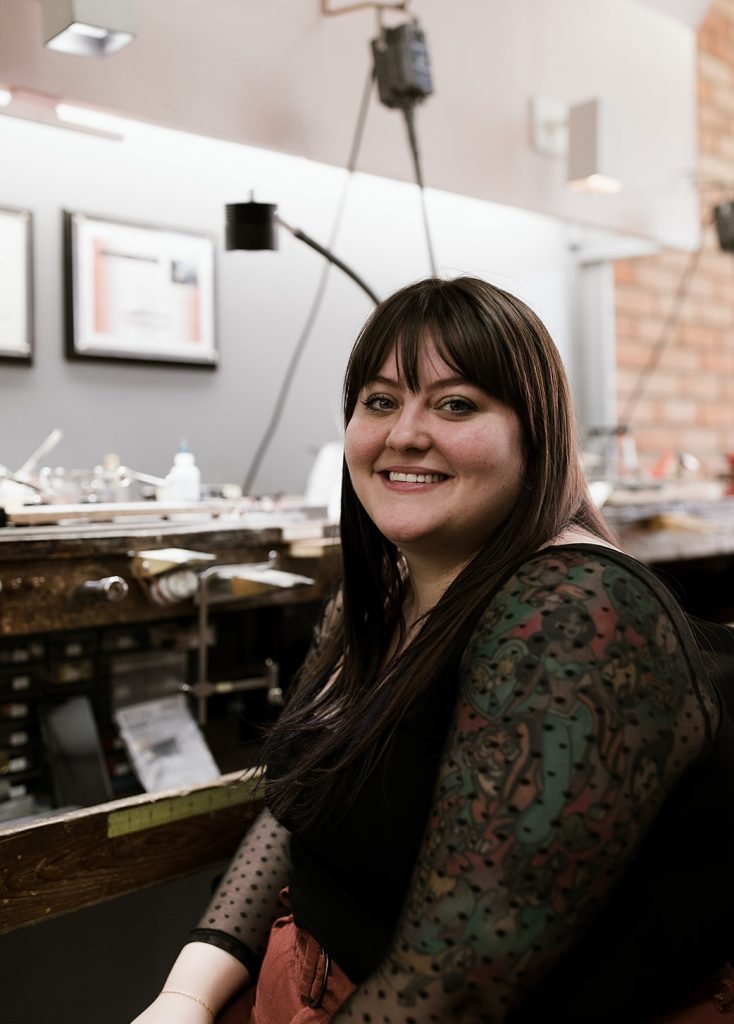 Cheyenne Sosman
I've always been an artist. Growing up, my family encouraged me to pursue my love of creating and you would never see me without a sketchbook in my hands. In high school, I befriended my art teacher and decided to follow her career path. I attended Western Michigan University with the idea of becoming an art educator.
In my first year, I enrolled in a few general courses, but when I took a metalsmithing course, I fell in love with the craft. I discovered that my admiration for mixed media and eye for color and creativity could be expressed with adornments.
I was literally able to wear my heart on my sleeve. In my last year of college, I participated in an event in Downtown Kalamazoo, called "Art Hop", at Plata Y Oro Jewelers, where local artists were able to display their work in small businesses in a gallery setting. After that night, they hired me as a part-time sales associate. That is where I met Jackie.
After graduation, I continued to work at Plata Y Oro for two years, until I pursued a career with Signet Jewelers, where I became a bench jeweler. I was quickly promoted to Field Repair Manager and within two years I managed a small staff of jewelers. I had the experience of working in customer service and now had developed my technical skills to become a master goldsmith. In some ways, I was able to become an art educator, just not in the way I had always envisioned.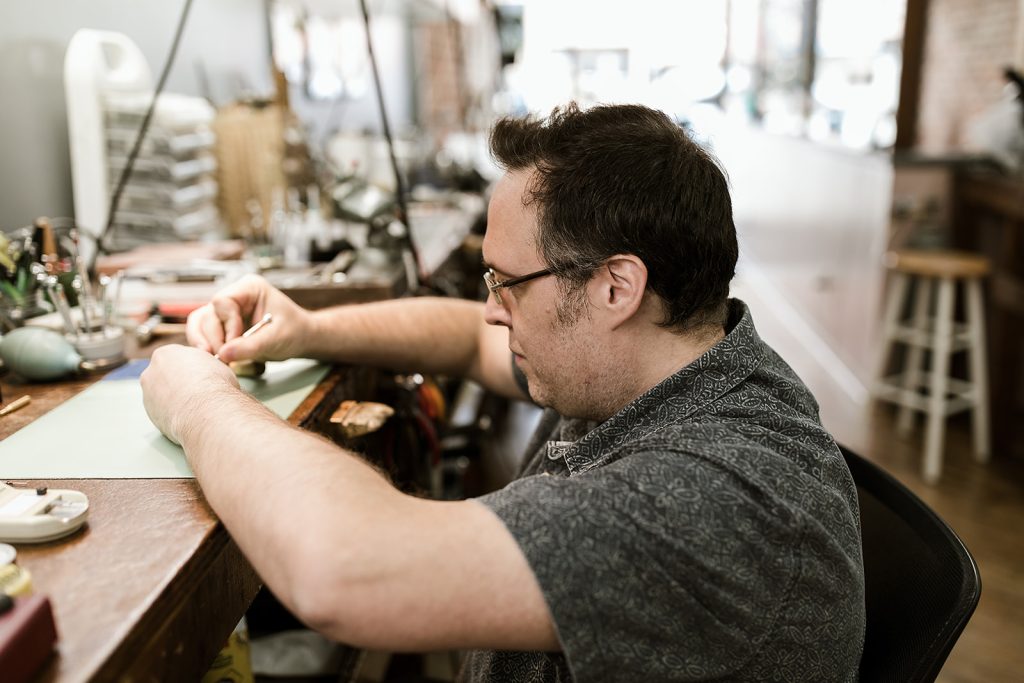 Noah Dangler Suydam
I got interested in the jewelry field while taking a class in high school. Shortly after, I began working at Hacker Jewelers. I was with them for 15 years until their retirement, and recently I joined the Patina team! I specialize in watch repair, jewelry repair, and I've even won awards for jewelry design!